Park Map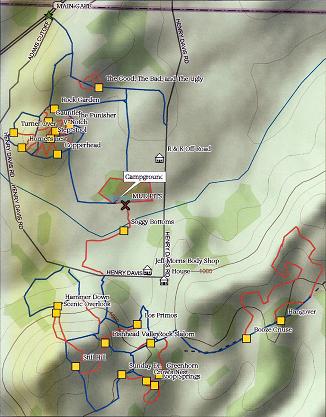 - Click map to enlarge -

Park Rates
Standard rates apply to the park except during special events held by large groups or sponsors.
MMORV is open almost every weekend. You must call before planning a trip to the park! Contact information here

Standard daily rate - $20.00 per day per vehicle
Weekend rate - $30.00 per weekend per vehicle

There is currently no charge for passengers.

If you have a club the park can be rented for a flat fee or special pricing may be available per vehicle for groups of 20 vehicles or more. Please contact Randy or Kris for more information on group rates.

Varying rates may apply to special events such as charity rides, or if a club rents the park and charges members to raise money.

All fees are due at sign in for open rides.

Groups wishing to rent the entire park need to register in advance to reserve the park. A deposit is required 1 week in advance to reserve the park.

Yearly memberships are also available for a once a year fee of $200. Members can RSVP by calling ahead to ride any regularly open day. Members also receive additional benefits.

Membership Details:
| | |
| --- | --- |
| · | EXCLUSIVE MEMBER ONLY RIDES |
| | |
| --- | --- |
| · | MMORV T- SHIRT, KEY CHAIN, & STICKER |
| | |
| --- | --- |
| · | SPECIAL MEMBERSHIP RATES FROM SPONSORS |
Become a member of Morris Mountain Off Road Park and enjoy many extra benefits while saving money. You can even earn credit toward your next membership dues by signing up new members and other periodic incentive programs.

To join you must be at least 18 and have a valid drivers license. Download the application form and bring the completed form to MMORV along with the required dues. You will have to sign the standard waiver to be eligible to enter the park. Once you have joined you will be issued a membership card. Present the card at the gate for entry.

* Subject to park closing due to trail work etc. Call before you plan to ride, if no event has been scheduled. The park is open most weekends.